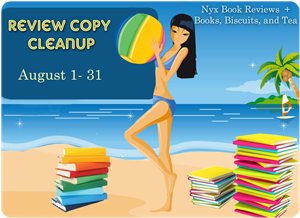 The lovely Vicky from Books, Biscuits, & Tea along with Celine from Nyx Book Reviews are probably as bogged down with books that need to be read and reviewed, so they decided to do another Review Copy Cleanup!
I don't know about y'all, but I have a TON of physical and .mobi review books that are desperately calling my name. Just when I think I've got a handle on the books that I've pledged to read and review, I have ten more that come along that I can't say no to or hand off to the girls who also post here.
SO. I'm going to hope to heck that in the month of August that I can get through at least the 20 books sitting on my nightstand that need to be read along with at least 10 Kindle review books that need to be read and reviewed.
Want to participate along with me? Check out this post and sign up!
2 Responses to "Readathon: August Review Copy Cleanup"
Leave a Reply